The Philanthropist with a healing touch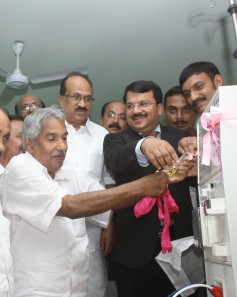 Another area that attracted the attention of Dr. Hussain is the prevalence of Kidney disease in India and the lack of treatment facility for this life-threatening disease. In India, over 20 million kidney patients need dialysis. But only 2 per cent of them have the access to treatment facilities. Five per cent of the patients manage to get kidney transplant.
Cost per dialysis is around INR 1600 to INR 2000 and could easily exceed the average family's monthly income. Many families slip into economic ruin as they struggle to save the life their dear ones. However, there are not many choices before them: Since it is a life-threatening disease, it requires immediate attention and maintenance. Since treatment facilities for such complicated illness are mostly found in hospitals located in towns and cities, patients from far off places are at a disadvantage. Traveling great distances to reach a hospital in itself can be tiresome for a kidney patient. The financial burden of travel expenses are another matter of concern.
Dr. Hussain feels that by making available treatment facilities through the existing healthcare network, we can reach out to these less fortunate sections of the society.
Over the years, Dr. Hussain through Dr. K. P. Hussain Charitable Trust has been donating dialysis machines to 14 District Government Hospitals in Kerala. This should help in providing 65000 kidney dialysis to renal failure patients. The trust is aiming to provide dialysis facility free of cost to all needy people who are suffering from renal failure. Chief Minister and Health Minister of Kerala have been actively supporting this scheme.
The People's Doctor
As a person who works through various social organizations in the GCC and India to provide solace to the sufferings of the down-trodden, Dr. K. P. Hussain prefers to be known as the people's doctor. Here are the highlights of some of his initiatives:
In the UAE he has opened 25 camp clinics at industrial areas to provide primary healthcare to workers at affordable cost. He also conducts free medical camps for laborers in the UAE.
For the past 5 years, he has been providing annual educational scholarships to 1500 students in India, including scholarship to minority students of 16 states studying in both Government as well as Private Educational Institutions. Human Welfare Foundation, Jamia Nagar, New Delhi, KMCC Dubai, MPCC, TEAM Tirur, SAKE and Special needs schools are some of the institutions that receive support from Dr Hussain.
Provides housing facility to the poor and needy in India.
Dr. Hussain believes in leadership through effective administration and team work. This ensures delivery of very high quality services with the core values of compassion, integrity, dignity, responsibility and accountability. His collaboration with partners and associates ensures development and implementation of new plans for the operational infrastructure of systems, processes and personnel.
Social Commitments
Dr. K. P. Hussain is also active in various social associations from his home state and is involved in projects for people's causes.